Outreach's Recovery Residence for Women

Want to know what building healthy lives at Outreach's Recovery Residence for Women looks like? Join us for a virtual tour!
Outreach's Recovery Residence for Women is centrally located on Outreach's Crooked Hill Campus in Brentwood, Suffolk County.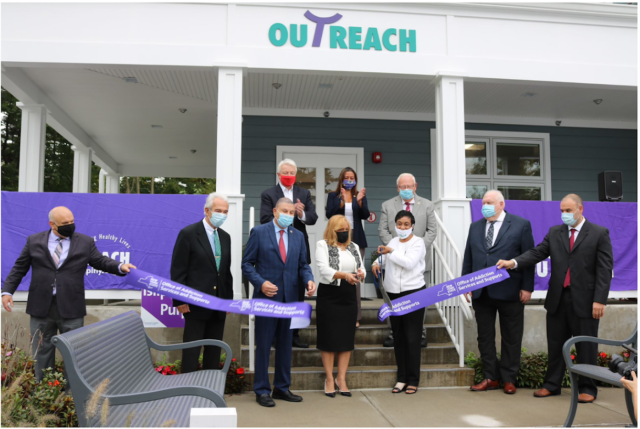 Opening its doors in January 2020, with official ribbon-cutting several months later, the 25-bed Recovery Residence for Women is a 24-hour staffed, safe and supportive living facility for women and women with children who have completed intensive residential or inpatient treatment and are transitioning back to community living.
This brand new residence offers two-person rooms with single beds furnished with desk spaces for privacy and work, designated community spaces for family meetings and sober social gatherings, brand new kitchen and communal dining area, and an outdoor patio and garden area. Length of stay varies by each resident's needs and progression in outpatient treatment.
Participation in an outpatient program is required, and transportation is available for residents to and from Outreach's outpatient program in Brentwood, which provides enhanced outpatient treatment for women.
Specialized services for women in our Brentwood program offers: enhanced gender responsive outpatient treatment for women utilizing a trauma-informed framework, including psychiatric evaluation and mental health monitoring, specialized group sessions (anger management, life skills, relapse prevention), domestic violence counseling, recovery planning, family counseling, health education, vocational assessment and ongoing support services.
Life-changing and life-affirming, at Outreach's Recovery Residence, clients from Nassau and Suffolk Counties can heal, grow, and develop in all life roles – get well, stay well, build a healthy life.