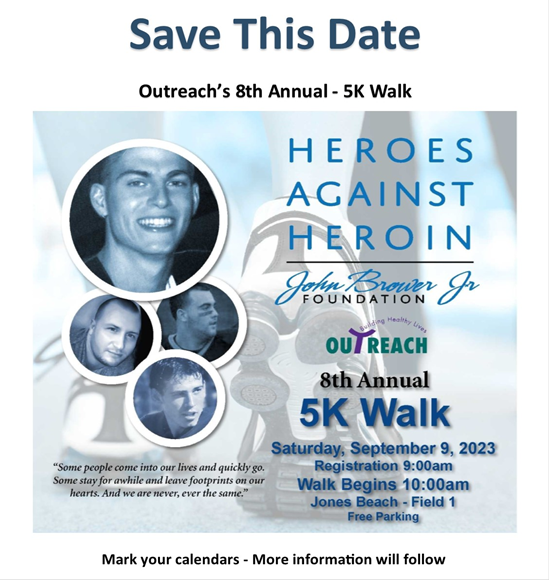 Walking for a Cause, Making a Difference Together
In 2014, days before Outreach's traditional Spring luncheon, a family who had tragically lost their son to an opioid overdose reached out to inquire if donations might be sent to Outreach in lieu of flowers. Since then, the family of John Brower Jr., led by his parents John and Jody and their children Kristen and Robert, have been on a mission to prevent lives from being taken by the opioid epidemic.
In 2015, the John Brower Jr. Foundation – Heroes Against Heroin was established to raise awareness of drug abuse and help raise funds to end the opioid epidemic on Long Island. In meaningful collaboration and partnership with Outreach, that same year, the "1st Annual Outreach John Brower, Jr. 5K Walk" – a fundraiser to support life-saving programs at Outreach and other organizations – was held at Jones Beach State Park, LI.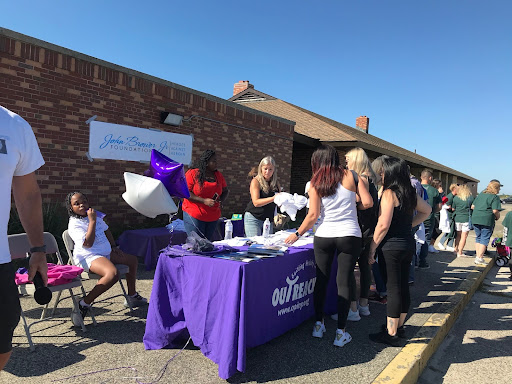 About the Event
Though the mission and message is consequential, the 5K event is a family friendly day, full of fun and healthy exercise. The focus is on positivity and hope, with the goal of keeping awareness high in helping families and neighbors on Long Island who are struggling with addiction, to take a path toward health and wellness. The walk kicks off at Jones Beach Field 1 with inspiring encouragement for participants to learn about substance and alcohol use disorders in Long Island communities, and tributes to the memory of John Brower, Jr. and his young contemporaries lost to the opioid epidemic. The 5K journey down the historic Jones Beach Boardwalk is a celebration that brings meaning to the idea that "where there's a walk, there's a way!" Every step makes a difference in giving back and paying forward.
How to Get Involved
Join us for the 8th Annual John Brower, Jr. 5K Walk on Saturday, September 9, 2023, at Jones Beach State Park, Parking Field 1. All are welcome – families, groups, individuals of all ages! Details to be posted soon.
For more information, assistance with registration, or any questions you may have about getting involved, please contact Marsha Radulov at 718-847-9233 ext. 2310 or marsharadulov@opiny.org.