Outreach's Holds 28th Annual Long Island Luncheon – "New Beginnings"
June 6, 2022
28th Annual Long Island "New Beginnings" Luncheon:
June 23rd, Stonebridge Country Club, Smithtown LI

Outreach, one of New York's leading nonprofit providers of life-changing drug and alcohol treatment, will honor four outstanding business, labor and non-profit leaders at the agency's 28th annual Long Island Luncheon on Thursday, June 23, 2022. The event, returning in-person after two years, is entitled "New Beginnings" and will be held at noon at Stonebridge Country Club in Smithtown.
This year's honorees are Roger Clayman, Long Island Federation of Labor, AFL-CIO; Kevin M. O'Connor, Chief Executive Officer of Dime Community Bank; John Shillingsford, CPA/ABV, CFE, partner at PKF O'Connor Davies, LLP, and Sergio Sedita, Chairman of the Outreach Development Corporation Board of Directors who will be the John Brower, Jr. Memorial Recipient. The luncheon chairman is Brian Edwards, a member of the Outreach Development Corporation Board.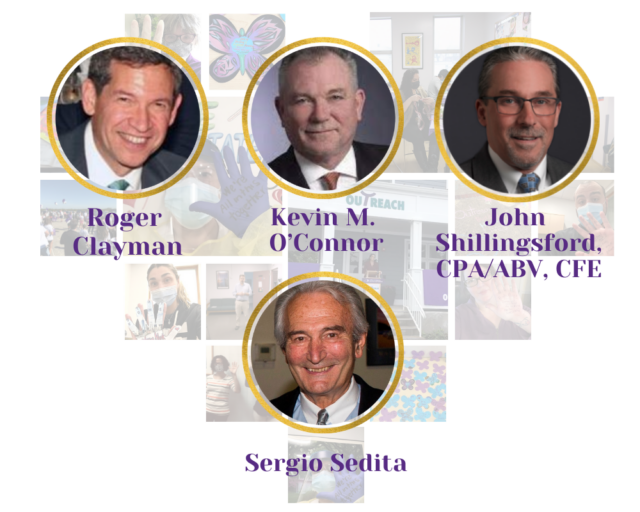 "It is such a great privilege to have these committed, innovative and generous individuals support Outreach," said Debra Pantin, president and CEO of Outreach. "We are so grateful to this year's honorees for putting their time and effort into the critical issue of addiction and behavioral health that continues to impact so many families on Long Island."
For more than four decades, Outreach has inspired individuals and families to achieve a life of unlimited potential by developing and delivering the highest quality evidence-based behavioral health services and training. The non-profit organization offers state-of-the-art assessment, referral, harm reduction techniques, substance abuse and mental health intervention, rehabilitation, and training programs at multiple residential and outpatient locations in New York City and on Long Island.
Tickets for the luncheon are priced at $300 per person and $3,000 for a table of ten. For journal ads or any other additional information please call Marsha Radulov at 718-847-9233, ext. 2310, or marsharadulov@opiny.org. Donors and sponsors may also contribute online.
About Outreach

More than 40 years ago, Outreach opened its doors as a small assessment and referral center to engage people in the community struggling with addiction. Since then, its mission evolved to meet more needs and more communities. Today, Outreach inspires adolescents, adults, and their families to live their healthiest life through  high quality, evidence-based substance abuse treatment and training programs located throughout New York City and Long Island.
For more information about Outreach, visit www.opiny.org. If you or someone you know needs help with a drug or alcohol problem, please call Outreach at 1-833-OPINYORG ((1-833-674-6967).
###