For quick navigation: Welcome – Sponsorship & Donation Opportunities – How to Donate
2021 Metro Luncheon Committee
Welcome
We've come a long way… and the tradition continues
After a year and a half of uncertainty and challenge, when we paused, transformed, reflected, revitalized and looked to restore balance to a world turned upside-down by COVID, the arrival of Fall 2021 has brought with it a sense of anticipation that we've turned many corners and are fully back on track to health and positive spirit. We've come a long way!
Throughout this challenging time, Outreach held steadfast, resolutely dedicated to our mission and work, so vital to assuring community health and wellbeing. Our doors remained open – physically and virtually – providing unique care in a time of unprecedented need. And now, a tradition that could only occur virtually in 2020, is also back ~ Outreach's annual metropolitan luncheon event returns live and in person!  We are thrilled to kick-off the 40th Annual "Back Together Again" Metropolitan Luncheon – a landmark occasion, celebrating our milestone 40th Metro gathering on December 2, 2021 at Cipriani – 42nd Street, 11:45 a.m.
Follow us on social media for regular updates! Facebook • Instagram • Twitter
Recognizing partners who inspire
The "Back Together Again" luncheon invites support for Outreach to continue to make a difference in the lives of adolescents, adults, and families who are struggling with the devastating consequences of drug and alcohol addiction, and doing so in the face of two continuing crises – the COVID-19 pandemic and the opioid epidemic. This year's gathering recognizes incredible partners whose outstanding commitment and inspiring efforts help Outreach's communities turn tragedy into hope.
Our honorees are: Kyle Bragg, President, SEIU 32BJ; Nick G. Hayden, Senior Vice President, Hudson Yards Management, Related Companies – Hudson Yards; and Vincent Alvarez, President, NYC Central Labor Council, AFL-CIO ~ partners whose enduring commitment helps support Outreach's lifesaving work.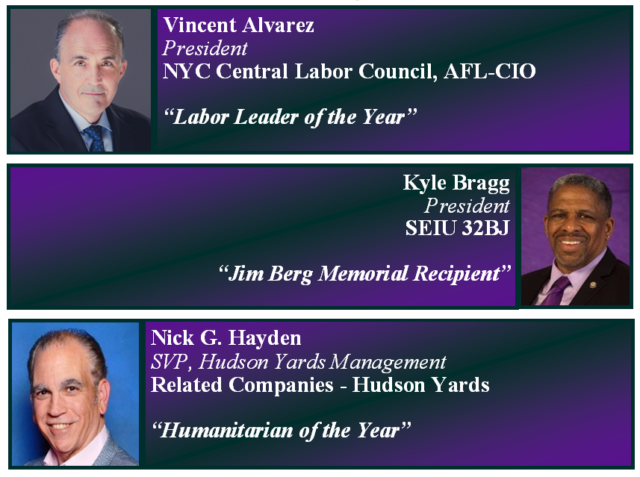 You can make a difference
We invite you to join us in celebrating our honorees and helping our entire New York Metropolitan community! Support Outreach's 40th Annual "Back Together Again" Metropolitan Luncheon by selecting a donor opportunity that you feel will make the greatest impact – purchase a table, journal advertisement or sponsorship package, or underwrite the luncheon by making a tax-deductible contribution. Each sponsorship level carries our commitment to represent and promote your generous donation. Proceeds will support the enhancement and expansion of all Outreach programs and services throughout the greater NY Metro area.
In times like this, we are reminded of how interconnected we all are. We are incredibly grateful for your compassion and generosity now and always. Thank you for being part of our community.
Support and Donation Opportunities
Corporate Sponsor Packages
• Super Sponsor – $20,000 • Platinum Sponsor – $15,000 • Gold Sponsor – $10,000
• Silver Sponsor – $8,000 • Bronze Sponsor – $7,500
Underwriting Opportunities
• Luncheon – $50,000 • Reception – $25,000 • Journal – $20,000
• Honoree Award – $5,000 • Photography – $3,500

Direct Contributions
• Benefactor – $6,000 • Frontline Worker Hero – $2,500 • Programs Supporter – $1000
For information on how your chosen support level will benefit Outreach, and on other donor opportunities, please visit our payment portal below, or download our brochure (PDF).
*Special Considerations:
• To ensure the safety of our guests, luncheon seating will be limited. Early registration is strongly recommended.
• Due to the ongoing presence of COVID, CDC and NYC guidelines will be followed in regards to public safety, and are subject to change up to the day of the event. Please continue to visit this page for updates.
Thank you for helping Outreach continue to make a difference in the lives of adolescents, adults, and families struggling with drug and alcohol addiction, in the COVID era. No donation is too small and every contribution is appreciated!
How to Donate Online
Make a donation now on our 2021 Metro Luncheon payment page! Upon entering your contribution, you will be taken to our secure payment portal by TD Bank. Our new online donation capacity can process credit card and checking transactions.

How to Donate by Mail
If you prefer to mail in your donation, please make checks payable to Outreach Project, Inc. You may download our event brochure (fillable PDF) to accompany your donation. With your donation, please provide your name and mailing address so we can respond with an acknowledgement and thank you letter. For questions or more information, please contact Marsha Radulov, Fundraising & Development by calling (718) 847-9233 ext. 2310.
Donations by check may be mailed to:
Outreach Project, Inc.
11711 Myrtle Ave
Richmond Hill, NY 11418-1751
Attention: Development Department
2021 Metro Luncheon Committee:
Luncheon Chairman: Daniel Kindbergh – Executive Vice President, Operations, Brookfield Properties; Committee: Steven Alessio, Robert Bonanza, Gene Boniberger, Michael Bosso, Kuba J. Brown, James T. Callahan, Thomas A. Callahan, Thomas H. Canty, Edwin L. Christian, Joseph K. Collins, Scott Corneby, Patrick Dolan, Jr., Matt Duthie, Thomas Gesualdi, Gregory Hach, James C. Halpin, William Hill, Brian Horan, Gary LaBarbera, George Lewis, William Lynn, John J. Murphy, John O'Hare, Vincent F. Pitta, Thomas Reynolds, Howard Rothschild, Scott Salmirs, Paul Salvatore, John Santora, Scott Wachenfeld, Robert Walsh, Richard A. Weiss, James Whelan, Steven C. Witkoff
For additional information about the 40th Annual Metropolitan 'Back Together Again' Luncheon, please call or e-mail: Marsha Radulov at 718-847-9233 ext. 2310, marsharadulov@opiny.org