Keeping You Informed on Outreach's COVID-19 Guidelines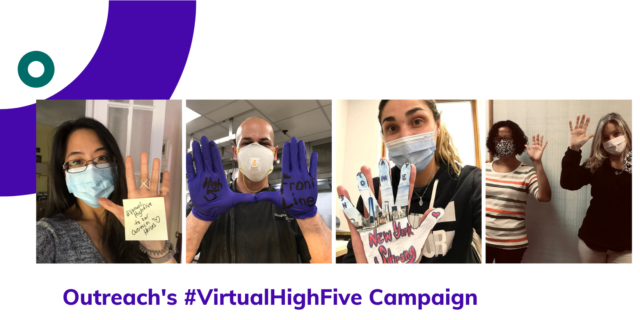 More than any other external event in Outreach's history, the emergence of the global COVID-19 pandemic a few short months into 2020 disrupted life 'as normal' for the organization, New York, the nation, and the world. The unprecedented crisis presented extraordinary challenges requiring dramatic adjustments to ensure the continued provision of essential services so critically needed, particularly as the opioid epidemic continued unabated and reports began to chronicle the tragic interrelation of these major public health crises, with opioid overdoses, alcohol and substance abuse, and substance use-related domestic violence incidents spiking across the greater New York Metro region.
Outreach remained steadfast, resolutely dedicated to the agency mission and work vital to assuring community health and wellbeing. Within a week of "New York on Pause" in March 2020, Outreach's services transformed to ensure that our doors – physical and virtual – remained open, and that our facilities were safe: outpatient programs transitioned to virtual clinics providing tele-healthcare; residential programs remain operational 24/7 ensuring a safe and therapeutic environment for persons in our care; and the Outreach Training Institute remarkably converted to distance-learning, keeping aspiring health and behavioral health care clinicians on course to a brighter future.
As New York City and Long Island began to "un-pause" in June 2020, Outreach did as well. Carefully monitoring national, state and local guidance, plans were implemented, ensuring fastidious adherence to enhanced safety protocols in all facilities. Residential units relaxed restrictions on admissions, as well as additional movement within and outside our facilities. For outpatient clinics, a gradual process was undertaken for bringing staff back to our facilities, as well as a phased-in approach for clients to return on-site. With the approval by the Food and Drug Administration (FDA) of COVID-19 vaccines in early 2021, Outreach joined in webinars hosted by NYS Office of Mental Health (OMH) and NYS Office of Addiction Services and Supports (OASAS) intended to provide information on vaccine options geared towards OMH and OASAS staff, patients, clients and patients and residents.  As variants of the virus emerged over the course of 2021 – Delta and Omicron being the most predominant strains – Outreach responded accordingly, following all new guidance to assure that our facilities and services continue uninterrupted, with safety of all paramount.
Please bookmark or check this page regularly for updates as new developments continue to emerge. See updates below on what Outreach is doing as an organization, information and guidance for clients, students, and loved ones, as well as informational resources for all to share.  You may also follow us on our social media accounts for updates.

Outreach's Facilities and Treatment Services
All Outreach facilities are currently operational. We continue to monitor for symptoms in clients, visitors, and staff, and are taking proactive steps to keep everyone in our facilities safe while serving the needs of our community.  Recommendations made by  the CDC as well as guidance by New York State agencies, OASAS, DOH, and OMH , are followed with fidelity.
As of mid-December 2021, all Outreach employees are required to be vaccinated for COVID-19 if they are working in person at Outreach.  For New York City facilities, the first dose of the Pfizer or Moderna vaccine must be completed by 12/27/21, with second dose 45 days later.  At Long Island units. the first dose must be completed by 1/27/22, with second dose 45 days later.
Appointments for assessments, admissions and counseling are being made and services are being conducted. If you or a loved one is in need of services, please do not hesitate to contact us. Call Outreach's new toll-free number for a free and confidential phone consultation: 1-833-OPINYORG (1-833-674-6967).
All visitors – outpatient and adult residential clients, family members, guests – are being temperature-screened and must complete a brief COVID-19 screening questionnaire per OASAS guidelines. Though proof of vaccination or negative COVID-test is not currently mandated for clients and visitors, we require that all in our facilities be masked in shared offices, meeting spaces and common areas.
All Outreach outpatient services including assessment, medical/nursing, group and individual, psychiatric (medication assisted treatment/psychotropic medication evaluations), case management, peer services, and more, are offered both in-person onsite and remotely through telepractice. Please see our flyer for more details.
In line with OASAS's guidance, outpatient groups only have as many clients as can socially distance appropriately and are 50 minutes in length, a reduction from the standard 60 minutes, as required by OASAS.
Outreach residential programs are taking extra care to protect clients and staff, with family sessions provided via telehealth and social distancing measures strictly observed in line with CDC and OASAS guidance
Required cleaning and sanitation of our facilities, including waiting areas, office spaces, common areas, group rooms, is prioritized by Outreach's maintenance staff.
Outreach's community (staff, clients, students, partners) continue to maintain the professionalism we pride ourselves in, upholding organizational mission and values while  working together to continue to decrease fear, encourage safe and healthy practices, and avoid stigmatizing people who may or may not experience COVID.
Outreach's Training and Community Engagement Activities
Effective May 4th, 2020, Outreach Training Institute's (OTI) CASAC classes have transitioned to online learning via Webex, until state and local guidelines permit the return to in-person training. We are able to receive new applications and conduct interviews virtually, and have scholarships! For more information, visit our CASAC training page.
Professional Development training offered at Outreach's facilities have also resumed via distance learning. All training sessions are conducted on live video conference via Webex. To participate, participants need to be on a computer or tablet with a video camera and microphone. For information on upcoming professional development offerings and to register for a course, please refer to our Professional Development training page, where you can complete our online registration form. All courses provide continuing education hours for CASAC, SW, MHC, and MFT.
In-person meetings internally within Outreach and with external community partners, have resumed where possible, with participants adhering to strict social distancing and masking guidelines. Many meetings continue to be held virtually (Webex) or via conference calls.
Prevention
As is practice for other potential workplace communicable diseases, regular and everyday preventive actions and precautions are effective in preventing the transmission of COVID. Outreach asks that all continue to practice and remind loved ones of the following:
 Preventative hygiene
COVID-19 vaccines are effective at helping protect against severe disease and death from variants of the virus that causes COVID-19 currently circulating, including the Delta variant. Learn more about protecting yourself, your family and your community through accessing COVID-19 vaccines.
Follow local guidelines for the effective use of face masks and cloth coverings to prevent the potential spread of COVID-19. Learn how this practice can protect all.
Remember to wash your hands frequently, and thoroughly (20 seconds), especially after taking public transit. Use an alcohol-based hand sanitizer that contains at least 60-95% alcohol.
Avoid touching your face (mouth, nose, eyes) especially after being in public places (again, wash your hands).
Please impress the importance of hygienic steps to your family members (especially children) and loved ones.
Additional preventative measures can be found on the CDC website: https://www.cdc.gov/coronavirus/2019-ncov/hcp/guidance-prevent-spread.html
 Travel precaution
Thank you for your cooperation and for serving as an advocate for your own health, as well as the health of your loved ones, and all community members served by Outreach.
Resources

For more information about the pandemic and its impact,  consult these resources: