Outreach "Going Purple" for National Recovery Month
September 1, 2022
Outreach "Going Purple" for National Recovery Month Activities set for September to aid those recovering from Addiction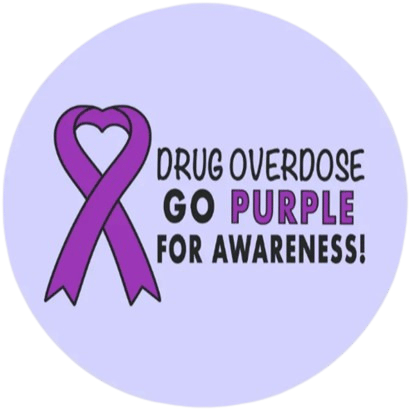 Outreach, the agency known for life-saving treatment for those battling addiction, is "going purple," the color designated for addiction awareness, for September, National Recovery Month. In addition to several activities and special programs planned for the month, the organization is pleased to announce that it will open a new methadone clinic in Brentwood, Long Island, scheduled to open by December 2022, that will serve those in Nassau and Suffolk counties battling opioid addiction.
It should also be noted that New York State has designated September 14th and 15th as Overdose Awareness Days. 
"September is an especially important month for us," said Debra Pantin, president and CEO of Outreach. "This year is particularly noteworthy with our methadone clinic announcement and numerous activities planned. As we emerge from the pandemic and the devastating effects it has had, causing many to turn to alcohol and drugs, it is more important than ever that we are here to provide treatment for anyone in need." 
Among Outreach's National Recovery Month activities are the following: 
Islip Long Island Goes Purple Fun Run on September 1: Members of the Outreach team participated in this recent event to kick off National Recovery Month. 

 

The John Brower Jr. Foundation's 7th annual

Heroes Against Heroin Walk

on

Saturday, September 10, 2022, 10:00 a.m. at Jones Beach: All proceeds from this fundraising walk, that is in honor of the Brower family's son John who lost his life to opioid addiction, will benefit Outreach's treatment programs and services on Long Island and in Brooklyn and Queens.

 
New York State Overdose Awareness Days on September 14 and 15: The Outreach staff across all sites will wear purple ribbons in remembrance those lost or have suffered a drug overdose.

 

New Wellness Clinic Open House on September 21 from 2:00 to 4:00 p.m.: All are invited to learn about and visit Outreach's new OASAS-certified outpatient program and OMH licensed mental health clinic in Richmond Hill, Queens that

expands the agency's ability to address the evolving needs of its growing client community. 



In December, Outreach will open a brand-new methadone clinic in Brentwood, Long Island to fill the growing need for treatment options on Long Island for those struggling to overcome substance use and addiction. This new facility will provide treatment seven days a week, 365 days per year.  
According to the National Institutes of Health (NIH), nearly 92,000 people in the U.S. died from drug-involved overdoses in 2020, including illicit drugs and prescription opioids. National Recovery Month, begun in 1989 by the Substance Abuse and Mental Health Services (SAMHSA), is a national observance promoting and supporting new evidence-based treatment and recovery practices to help prevent addiction and overdose. It also highlights the nation's recovery community and the dedication of service providers who make recovery possible.  
About Outreach  
More than 40 years ago, Outreach opened its doors as a small assessment and referral center to engage people in the community struggling with addiction. Since then, its mission evolved to meet more needs and more communities. Today, Outreach inspires adolescents, adults, and their families to live their healthiest life through high quality, evidence-based behavioral health services and training programs located throughout New York City and Long Island. Outreach's experts in substance use treatment and recovery are available to speak with journalists and reporters.  
For more information about Outreach, visit www.opiny.org. and follow us on Facebook, Twitter, LinkedIn, and YouTube. If you or someone you know needs help with a drug or alcohol problem, please call Outreach at 1-833-OPINYORG (1-833-674-6967). 
###