Sixth Annual Outreach/John Brower, Jr. Foundation 5K Walk Set for Saturday, September 11th
August 19, 2021
6th Annual Outreach/John Brower Jr. Foundation Event to Raise Funds and Awareness of Long Island's Opioid Crisis
The Sixth Annual Outreach/John Brower, Jr. Foundation 5K Walk to raise funds and awareness about the opioid crisis on Long Island will be held Saturday, September 11th, beginning at 9 a.m. at Jones Beach Field 1. The event, which has raised more than $180,000 since its inception, is held annually to honor the memory of John Brower, Jr., who died in 2014 of an opioid overdose at age 25. Proceeds from the walk support Outreach, the Queens and Long Island-based organization dedicated to helping teens and adults fight drug and alcohol addiction.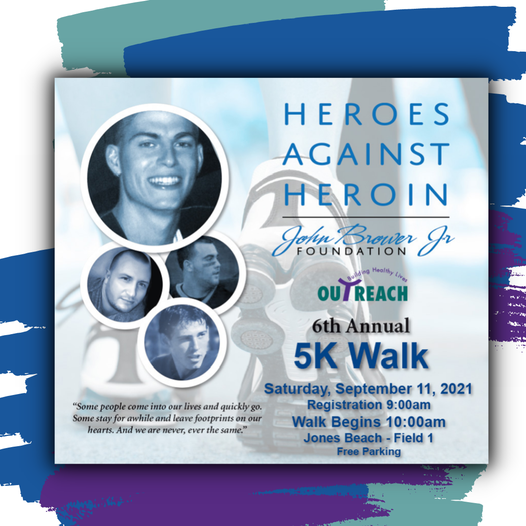 John and Jody Brower, the parents of John Brower, Jr., formed the foundation in 2015 to raise awareness of drug abuse, and to help raise funds to end the opioid epidemic on Long Island. After being introduced to Outreach shortly after their son's passing, the Browers were impressed by the organization's dedication to helping those struggling with addiction. They decided to target the foundation's fundraising efforts to support life-saving programs at Outreach and other Long Island organizations.
John Venza, vice president for adolescent and residential services at Outreach, said "We are especially excited for the John Brower, Jr., 5K Walk this year. We're proud to be able to partner once again with the extraordinary Brower family, whose dedication to eradicating the heroin epidemic continues to inspire us. Our ability to hold this event in-person this year is emblematic, I believe, of our community's perseverance throughout the pandemic."
For more information, assistance with registration, or any questions you may have, please contact Marsha Radulov at marshradulov@opiny.org or (718) 847-9233 x2310. You can also register online at https://opiny.org/donate/brower-walk-2021/.
If you or someone you know needs help with a drug or alcohol problem, please call Outreach at 1-833-OPINYORG or 1-833-674-6967.
About Outreach

More than 40 years ago, Outreach opened its doors as a small assessment and referral center to engage people in the community struggling with addiction to seek help. Since then, its mission evolved to meet more needs and more communities. Today, Outreach inspires adolescents, adults, and their families to achieve a life of unlimited potential through high quality, evidence-based substance abuse treatment and training programs throughout New York City and Long Island.
###