Outreach's 39th Annual Metro Donor Campaign to Premiere Virtual "Hope & Courage" Event December 18th
November 16, 2020
"Metro Hope and Courage Donor Campaign" to Culminate in Virtual Event December 18th
Outreach, New York's leading nonprofit provider of life-changing behavioral health/substance use disorder treatment, will premiere its 39th Annual Metropolitan fundraising event online, Friday, December 18, 2020, the first time it has been held 'virtually' in the tradition's history. The event, with a live broadcast at 12 noon and repeat showing at 7 pm on Outreach's social media platform on Facebook and on the organization's event website, will culminate the nonprofit's "Hope and Courage Donor Campaign: Confronting the COVID and Opioid Pandemics," currently underway. The event chairperson is Daniel Kindbergh, executive vice president of operations at Brookfield Properties, and a member of the Outreach Board of Directors.
The Hope and Courage Donor Campaign originated with the 26th Annual Outreach Long Island fundraiser, which raised more than $95,000. The campaign aims to bolster the nonprofit's mission to provide quality treatment for teens, adults, and families struggling with drug and alcohol addiction, especially those also affected by the COVID-19 pandemic. Recent reports have chronicled the tragic interrelation of these major public health crises, with opioid overdoses, alcohol and substance abuse, and substance use-related domestic violence incidents spiking across the greater New York Metropolitan region.
"Following the success of our Long Island event, we are very excited to once again come together under the banner of 'Hope and Courage,'" said Debra Pantin, president and CEO of Outreach. "It is so heartening to see our community unite, despite the unprecedented challenges that have strengthened our resolve to help those affected by both the COVID-19 and opioid pandemics."
For more than 40 years, Outreach has offered premier behavioral health intervention, rehabilitation, and training programs at 10 facilities in New York City and on Long Island.  Donors and sponsors may contribute online or via mail. For questions or further information, please contact Marsha Radulov at 718-847-9233, ext. 2310, or marsharadulov@opiny.org.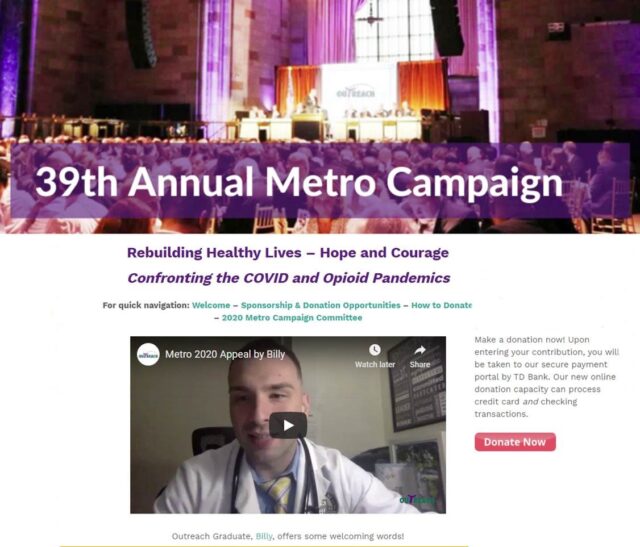 About Outreach

Forty years ago, Outreach opened its doors as a small assessment and referral center to engage people in the community struggling with addiction to seek help. Since then, its mission evolved to meet more needs and more communities. Today, Outreach inspires adolescents, adults, and their families to achieve a life of unlimited potential through high quality, evidence-based substance abuse treatment and training programs throughout New York City and Long Island.
###