Outreach & NYS OASAS Officially Open Recovery Residence for Women
September 29, 2020
Outreach and NYS OASAS Commissioner Arlene González-Sánchez Officially Open New Recovery Residence for Women in Brentwood
Outreach, New York's leading nonprofit provider of life-changing behavioral health/substance use disorder treatment, held an official opening for its new Recovery Residence for Women on Crooked Hill Road in Brentwood. At the ceremony were Commissioner of the NYS Office of Addiction Services and Supports (OASAS) Arlene González-Sánchez, MS, LMSW; New York State Senators Phil Boyle, Monica R. Martinez, and John E. Brooks, and New York State Assemblymember Phil Ramos. The event was featured live on Facebook and can be viewed here: www.Facebook.com/OutreachNY.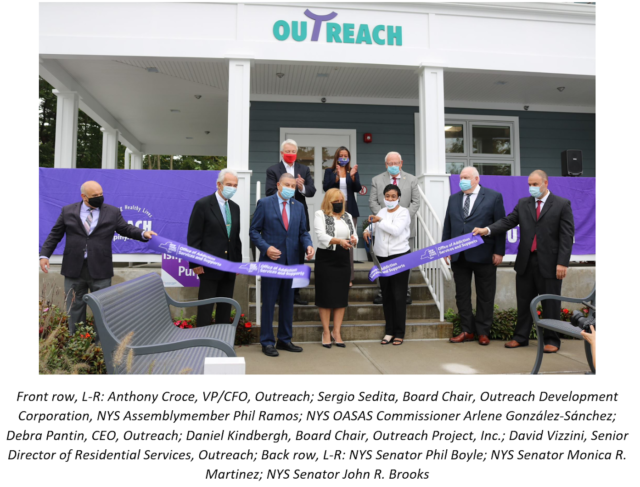 This 25-bed community residence for women combines a safe and supportive living environment with unique services for women affected by addiction, helping them to re-establish healthy living, reunite with children and family, and begin new substance-free lives. It was funded in part by OASAS which contributed $1 million. Construction was overseen by the NYS Dormitory Authority.
"During this difficult time with the COVID-19 pandemic, it is important now more than ever to make sure individuals and families have the services and support they need," said Lieutenant Governor Kathy Hochul, Co-Chair of the NYS Heroin and Opioid Task Force. "The opening of this new women's addiction treatment program on Long Island will offer recovery services and residential options for women who are struggling with addiction in the Nassau and Suffolk County area. We are committed to continuing to invest in treatment and facilities across the state to help build back better, enhance quality of life and combat the opioid epidemic in New York."
OASAS Commissioner Arlene González-Sánchez said, "Many gender specific life circumstances experienced by women may require a specialized treatment approach and this program will enable us to meet these unique needs. The opening of this program continues to build upon our overall statewide efforts to expand and provide targeted resources and supportive services for specific populations while also providing them with the tools to help them to thrive and achieve a life in sustained recovery."
Outreach will be able to serve an additional 50 to 75 women annually at this new program, furthering efforts on Long Island and throughout New York State to provide a full continuum of residential care for women suffering from addiction, and to better deliver the individualized care that is essential to recovery. By incorporating essential elements of treatment all in one place, the Outreach staff will work with individuals to establish a personalized treatment plan that will effectively address their recovery needs.
NYS Senator Pete Harckham said, "Women who are struggling with substance use disorder in the Nassau and Suffolk County region have a fantastic resource to turn to in their journey toward getting their lives on track. The opening of Outreach's Recovery Residence for Women is providing a much needed service to the community. As the chair of the Senate Alcoholism and Substance Abuse Committee, I know how important it is to have this facility available to women seeking treatment. It offers a sense of hope for the future."
"With the impact of COVID-19 and our economy in recession, the need for supportive care for individuals with addiction issues on Long Island has never been greater," said Debra Pantin, president and CEO of Outreach. "Long Island does not have a lot of residential beds.  Many women have to go into the city or out of the state."
"This will be a whole new chapter for [Outreach's] history. Women are going to be getting services and the programs they need to end their addiction," said NYS Senator Phil Boyle.
The Recovery Residence will offer residential addiction treatment services for women, ages 18 and over from Suffolk and Nassau counties, helping them to successfully transition back into their communities when they are ready. Residential treatment services also include case management services, group counseling, skill-building, training in life skills and parenting, and recreational activities. Additionally, the facility has 24-hour staffing, common living and recreational space, and transportation available to and from Outreach's enhanced outpatient program for women, also in Brentwood.
NYS Senator Monica R. Martinez said, "It's so good to know we have a facility here in Suffolk County, here in Brentwood, for women. Women can feel safe, women will have a place to go, to feel nurtured, and not have to worry about any type of stigma."
"This safety net is really important," said NYS Assemblymember Phil Ramos. "The virus has really wreaked havoc on this community. When you cure a woman from addiction, you are curing a family. When you help a woman become independent, you are helping a family become independent…and that is the tide that rises all ships."
"This is a wonderful occasion. We live today in very trying times," said NYS Senator John R. Brooks. "…Many, many people are facing all kinds of difficulties. We have a country and economy of people in various stages of recovery. Programs like this are so critical."
Outreach has more than 40 years of experience treating substance abuse in teens, adults and women with children. The agency was selected by OASAS to construct the Recovery Residence for Women, which is certified and funded by New York State.
If you or someone you know needs help with a drug or alcohol problem, please call Outreach, with locations in New York City and Long Island, at 718-847-9233, or visit opiny.org.
About Outreach

40 years ago, Outreach opened its doors as a small assessment and referral center to engage people in the community struggling with addiction to seek help. Since then, its mission evolved to meet more needs and more communities. Today, Outreach inspires adolescents, adults, and their families to achieve a life of unlimited potential through high-quality, evidence-based substance abuse treatment and training programs throughout New York City and Long Island.
###