Outreach's 38th Annual Metropolitan Luncheon Raises more than $1.1 Million
December 23, 2019
Outreach's 38th Annual Metropolitan Luncheon Raises more than $1.1 Million to Support Alcohol and Substance Abuse Treatment
Outreach, New York's premier provider of drug and alcohol treatment and training services, raised more than $1.1 million at its recent 38th Annual Metropolitan Luncheon at Cipriani 42nd Street. The funds will allow the agency to build on its mission to provide high quality alcohol and substance abuse treatment to teenagers and adults in the New York metropolitan area.
Honored at the luncheon were: Gregory Hach, founding partner, Hach & Rose, LLP, Hach Rose Schirripa & Cheverie, LLP; James C. Halpin, president, Platinum Inc.; and William Lynn, business manager, IUOE Local 30. The event's luncheon chairman was Daniel Kindbergh, executive vice president, operations, Brookfield Properties.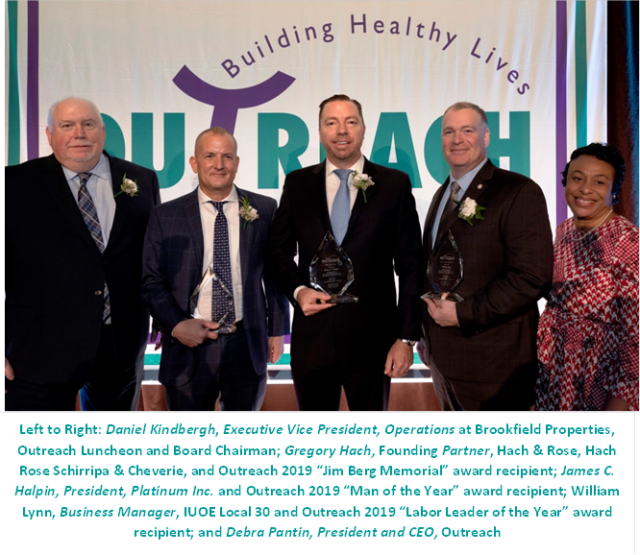 "Our honorees and supporters worked very hard to make this luncheon a success, assisting us in pursuing our very important mission," said Debra Pantin, president and CEO of Outreach. "We are so grateful for their dedication to helping people, families, and communities affected by substance abuse."
"We're especially thankful to the New York City business, real estate, and labor communities who have been longtime dedicated supporters of Outreach. Their efforts have helped thousands receive resources and treatment for alcohol and substance abuse."
If you or someone you know needs help with a drug or alcohol problem, please call Outreach, with locations in New York City and Long Island, at 718-847-9233, or visit opiny.org.
About Outreach 
Over 38 years ago, Outreach opened its doors as a small assessment and referral center to engage people in the community struggling with addiction to seek help. Since then, its mission evolved to meet more needs and more communities. Today, Outreach inspires adolescents, adults, and their families to achieve a life of unlimited potential through high-quality, evidence-based substance abuse treatment and training programs throughout New York City and Long Island.
###