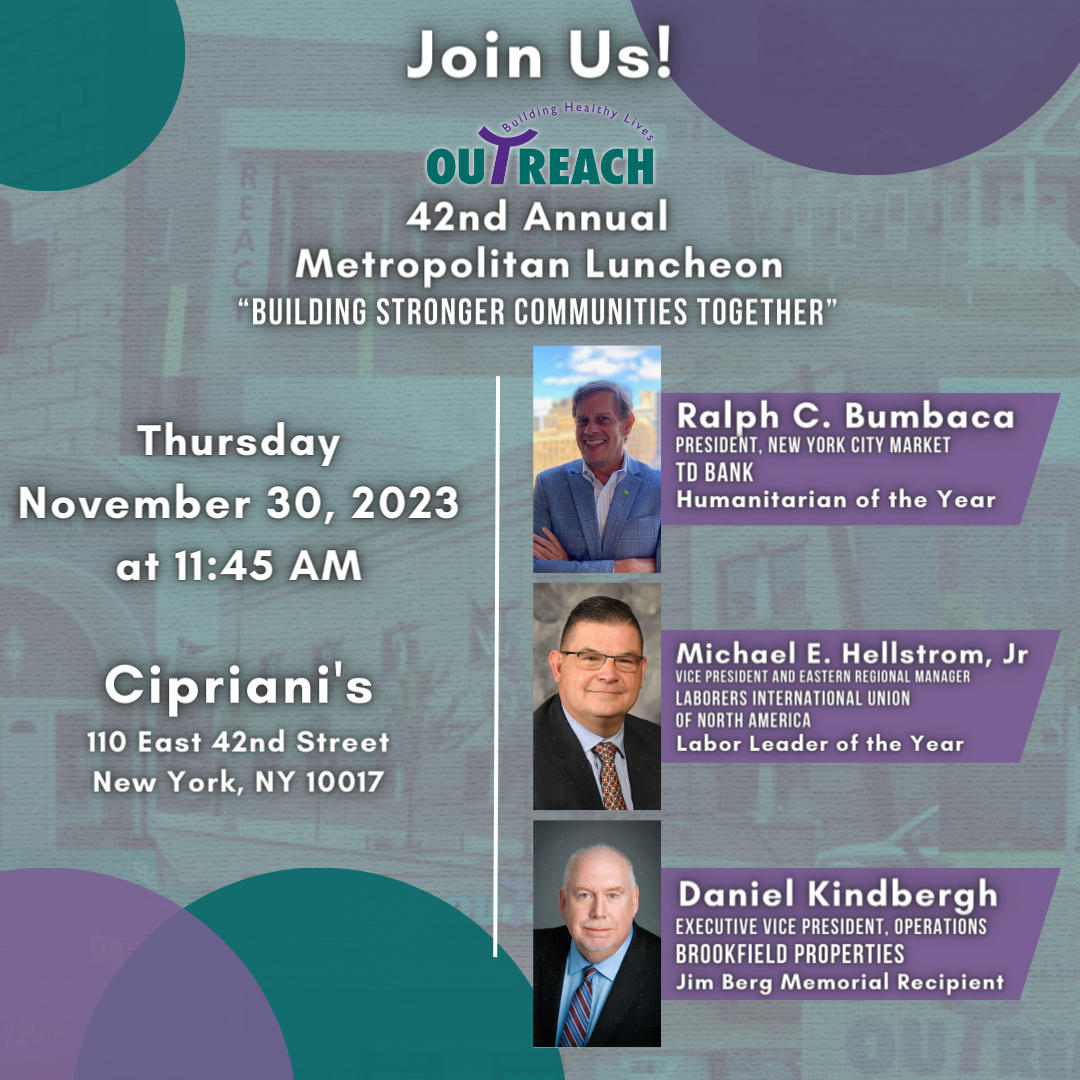 The annual Metropolitan Luncheon is Outreach's largest fundraising event of the year, where we celebrate the people and programs that help make a difference in the lives of fellow New Yorkers struggling with addiction, substance use and co-occurring mental health disorders. All proceeds make it possible for us to continue to provide life-saving treatment, mental health and training programs in New York City and on Long Island.  
2023 Awardees
This year's Luncheon will honor three outstanding Labor and Business leaders:  
2023 Humanitarian of the Year award recipient, Ralph C. Bumbaca, President, New York City Market, TD Bank 
2023 Labor Leader of the Year award recipient, Michael E. Hellstrom, Jr., Vice President and Eastern Regional Manager, Laborers International Union of North America 
2023 Jim Berg Memorial award recipient, Daniel Kindbergh, Executive Vice President, Operations, Brookfield Properties 
Sponsorship and Donation Levels
Corporate Sponsor Packages
• Diamond Sponsor – $20,000 • Platinum Sponsor – $15,000 • Gold Sponsor – $10,000
• Silver Sponsor – $9,000 • Bronze Sponsor – $8,000 
Underwriting Opportunities
• Luncheon – $50,000 • Room Dedication – $30,000 • Reception – $25,000
• Honoree Award – $5,000 • Photography – $3,500
Direct Contributions
• Frontline Worker Hero – $2,500 • Programs Supporter – $1,000 
For information on how your level of support will benefit Outreach please click the Donate Now below or download our Luncheon brochure (fillable PDF). 
How to Donate Online
Make a donation right now by clicking the Donate Now button below! Upon entering your contribution, you will be taken to our secure payment portal by TD Bank, which can process both credit card and checking transactions. 

How to Donate by Mail
Prefer to mail in your donation? Please make checks payable to Outreach Project, Inc. and send in with our downloadable Luncheon brochure (fillable PDF). Make sure to provide your name and mailing address so we can send you a tax deduction acknowledgement letter.  
Kindly mail your donation to:
Outreach Project, Inc.
11711 Myrtle Ave
Richmond Hill, NY 11418-1751
Attention: Development Department 
2023 Metropolitan Luncheon Committee
Luncheon Chairman: Daniel Kindbergh – Executive Vice President, Operations, Brookfield Properties; Committee: Steven Alessio, Vincent Alvarez, Joseph Azzopardi, Robert Bonanza, Gene Boniberger, Michael Bosso, Andrew Bregenzer, Kuba J. Brown, James Cahill, James T. Callahan, Thomas A. Callahan, Christine Casiano, Edwin L. Christian, Joseph K. Collins, Kenneth Collins, Scott Corneby, Richard Dzwlewicz, Thomas Gesualdi, Gregory Hach, James C. Halpin, Nick Hayden, William Hill, Brian Horan, Gary LaBarbera, Rob Lewandowski, George Lewis, William Lynn, John J. Murphy, John O'Hare, Vincent F. Pitta, Thomas Reynolds, Howard Rothschild, Scott Salmirs, Paul Salvatore, John Santora, John Santos, Neil Sheehan, Robert Walsh, Steven C. Witkoff. 
Executive Committee: Debra Pantin, President & CEO; Krista Whitman, Sr. Vice President & Chief Operating Officer; Mary Brite, Sr. Vice President & Chief Compliance Officer; Anthony J. Croce, Sr. Vice President & Chief Financial Officer; Christal Montague, Sr. Vice President & Chief Strategy Officer 
Questions? Please contact Marsha Radulov, Director of Special Events & Fundraising at 718-847-9233 ext. 2310 or marsharadulov@opiny.org.