In response to the current health crisis, OTI is offering its CASAC Programs on live video conference via Web-Ex.  
Classes in the CASAC programs are scheduled as follows: 
     ·   Richmond Hill, Queens Program – T, W, TH:  6:30 – 9:30 pm
     ·   Brentwood, Long Island Program – M, T, W:  6:30 – 9:30 pm
For more information about CASAC programs, please visit the CASAC TRAINING PAGE.

Please click the links below to direct you to parts of the page.
Information • Pricing Options • To Apply • OTI Calendar • CASAC Course Descriptions
Re-Credentialing Information
---
Certified professionals need a reliable resource for continuing education CASAC hours. Outreach Training Institute (OTI) offers dozens of courses to help fulfill your re-credentialing needs. Each of the OTI courses have been approved by New York State OASAS for CASAC renewal.
CASAC professionals can earn their re-credentialing hours by participating in select courses of our standard 350-hour CASAC Training Program or attending a series of Professional Development Courses, all of which have been approved for CASAC renewal hours.
*CASAC Students: All Make-up classes must be confirmed with the administrative office at your campus. Please contact Anthony Pereira for Richmond Hill, or Lorraine Stewart for Brentwood.
*New Registrants: Please be sure to verify the dates and times listed below have not changed before registering. If you have any questions regarding trainings please contact Anthony Pereira in Richmond Hill at 718-847-9233 ext. 2309 or Lorraine Stewart in Brentwood at 631-951-2613 ext. 3105 
Please see below for the full descriptions of Outreach Training Institute's CASAC courses.
To see the full schedule of Outreach Training Institute's courses from September 2020 to January 2021, please view our OTI Calendar.
To register for a re-credentialing course, please complete our online registration form here.

If you wish to see more re-credentialing opportunities, you can view our all-in-one OTI calendar below or visit our Professional Development page.
Re-Credentialing Pricing Options
---
Subscription Packages
General public: can purchase 30 hours of re-credentialing courses, to be used within a year of purchase for $550
OTI Alum: can purchase 30 hours of re-credentialing courses, to be used within a year of purchase for $395
Regular Pricing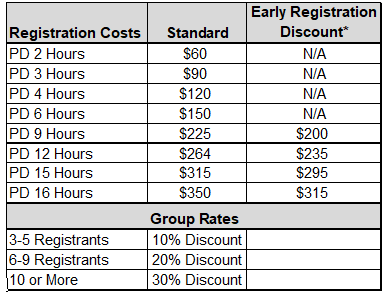 To Apply
---
When registering please review the entire application. Please register early as possible as our courses have limited seating. We appreciate your interest in our program!

OTI Calendar
---
This calendar is an all-in-one schedule for CASAC Training, Professional Development Training, and Re-Credentialing.

Show past events
February 2021
Monday
Tuesday
Wednesday
Thursday
Friday
Saturday
Sunday

Monday February 1 1

6:30 pm – 9:30 pm CASAC Training - Long Island - Module 9 - Practica 1 - Robert

Tuesday February 2 2

5:00 pm – 6:00 pm Internship Supervision
6:30 pm – 9:30 pm CASAC Training - Long Island - Module 9 - Professional Development - Kevin
6:30 pm – 9:30 pm CASAC Training - Richmond Hill - Module 3 - Theories of Human Development Pt 1 - Robert

Wednesday February 3 3

6:30 pm – 9:30 pm CASAC Training - Long Island - Module 9 - Practica 2 - Liliane
6:30 pm – 9:30 pm CASAC Training - Richmond Hill - Module 3 - Theories of Human Development Pt 2 - Robert

Thursday February 4 4

6:30 pm – 9:30 pm CASAC Training - Richmond Hill - Module 3 - Practica 2 - Robert

Friday February 5 5

12:00 pm – 1:30 pm Advanced Motivational Interviewing Pt 1

Saturday February 6 6

Sunday February 7 7

Monday February 8 8

6:30 pm – 9:30 pm *CASAC Training - Long Island - Module 9 - Counselor Wellness Pt 1 - Robert

Tuesday February 9 9

5:00 pm – 6:00 pm Internship Supervision
6:30 pm – 9:30 pm *CASAC Training - Long Island - Module 9 - Counselor Wellness Pt 2 - Robert
6:30 pm – 9:30 pm CASAC Training - Richmond Hill - Module 3 - Practica 3 - Liliane

Wednesday February 10 10

6:30 pm – 9:30 pm **CASAC Training - Richmond Hill - Module 3 - Groups in SUD Treatment Pt 1 - Liliane
6:30 pm – 9:30 pm CASAC Training - Long Island - Module 9 - Practica 3 Robert

Thursday February 11 11

6:30 pm – 9:30 pm **CASAC Training - Richmond Hill - Module 3 - Groups in SUD Treatment Pt 2 - Robert

Friday February 12 12

12:00 pm – 1:30 pm Advanced Motivational Interviewing Pt 2

Saturday February 13 13

Sunday February 14 14

All Day PRESIDENT'S WEEK / MID-WINTER BREAK / NO CLASSES IN RICHMOND HILL

Monday February 15 15

All Day PRESIDENT'S WEEK / MID-WINTER BREAK / NO CLASSES IN RICHMOND HILL
6:30 pm – 9:30 pm NO CLASS - PRESIDENT"S DAY

Tuesday February 16 16

All Day PRESIDENT'S WEEK / MID-WINTER BREAK / NO CLASSES IN RICHMOND HILL
1:00 pm – 4:30 pm Clinical Supervision Foundations II - Day 1
5:00 pm – 6:00 pm Internship Supervision
6:30 pm – 9:30 pm **CASAC Training - Long Island - Module 9 - Ethical Decision Making Pt 1 - Kevin

Wednesday February 17 17

All Day PRESIDENT'S WEEK / MID-WINTER BREAK / NO CLASSES IN RICHMOND HILL
10:00 am – 1:00 pm Opioid & Suicide Loss Pt 1
1:00 pm – 4:30 pm Clinical Supervision Foundations II - Day 2
6:30 pm – 9:30 pm **CASAC Training - Long Island - Module 9 - Ethical Decision Making Pt 2 - Kevin

Thursday February 18 18

All Day PRESIDENT'S WEEK / MID-WINTER BREAK / NO CLASSES IN RICHMOND HILL
10:00 am – 1:00 pm Opioid & Suicide Loss Pt 2
2:00 pm – 4:00 pm Clinical Supervision Learning Collaborative - Session 1 Day 1

Friday February 19 19

All Day PRESIDENT'S WEEK / MID-WINTER BREAK / NO CLASSES IN RICHMOND HILL
10:00 am – 12:00 pm Clinical Supervision Learning Collaborative - Session 2 Day 1
12:00 pm – 1:30 pm Advanced Motivational Interviewing Pt 3
3:30 pm – 4:30 pm Admissions Committee Meeting

Saturday February 20 20

All Day PRESIDENT'S WEEK / MID-WINTER BREAK / NO CLASSES IN RICHMOND HILL

Sunday February 21 21

Monday February 22 22

1:00 pm – 4:30 pm CSFII Day 3 Liliane
5:00 pm – 6:00 pm Career Development Workshop
6:30 pm – 9:30 pm CASAC Training - Long Island - Module 9 - Practica 4 - Robert

Tuesday February 23 23

3:00 pm – 4:00 pm Narcan Training
5:00 pm – 6:00 pm Internship Supervision
6:30 pm – 9:30 pm CASAC Training - Long Island - Module 9 - Practica 5 Robert
6:30 pm – 9:30 pm CASAC Training - Richmond Hill - Module 3 - Practica 4 - Liliane

Wednesday February 24 24

1:00 pm – 4:30 pm CSF II Day 4 Liliane
6:30 pm – 9:30 pm *CASAC Training - Long Island - Module 9 - Confidentiality & Legal Issues - Kevin
6:30 pm – 9:30 pm CASAC Training - Richmond Hill - Module 3 - Foundational Skills: Individual & Group Counseling Pt 1 - Robert

Thursday February 25 25

2:00 pm – 4:00 pm Clinical Supervision Learning Collaborative - Session 1 - Day 2
5:00 pm – 6:00 pm Career Services Mary
6:30 pm – 9:30 pm CASAC Training - Richmond Hill - Module 3 - Foundational Skills: Individual & Group Counseling Pt 2 - Robert

Friday February 26 26

10:00 am – 12:00 pm Clinical Supervision Learning Collaborative Session 2 - Day 2
12:00 pm – 1:30 pm Advanced Motivational Interviewing Pt 4

Saturday February 27 27

Sunday February 28 28
March 2021
Monday
Tuesday
Wednesday
Thursday
Friday
Saturday
Sunday

Monday March 1 1

1:00 pm – 4:30 pm CSFII Day 5 Liliane
5:00 pm – 6:00 pm Career Services Mary
6:30 pm – 9:30 pm CASAC Training - Long Island - Module 9 - Practica 6 - Kevin

Tuesday March 2 2

5:00 pm – 6:00 pm Internship Supervision
6:30 pm – 9:30 pm *CASAC Training - Richmond Hill - Module 3 - Foundational Skills: Individual & Group Counseling (MI) Pt 3 - Liliane
6:30 pm – 9:30 pm CASAC Training - Long Island - Module 9 - Practica 7 - EXAM & GRADUATION - Kevin

Wednesday March 3 3

6:30 pm – 9:30 pm *CASAC Training - Long Island - Module 1 - Overview: Introduction to Addictions Pt 1 - Kevin
6:30 pm – 9:30 pm *CASAC Training - Richmond Hill - Module 3 - Foundational Skills: Individual & Group Counseling(MI) Pt 4 - Liliane

Thursday March 4 4

5:00 pm – 6:00 pm Career Services Mary
6:30 pm – 9:30 pm CASAC Training - Richmond Hill - Module 3 - Practica 5 - PREVIEW - Robert

Friday March 5 5

12:00 pm – 1:30 pm Advanced Motivational Interviewing Pt 5

Saturday March 6 6

Sunday March 7 7

Monday March 8 8

5:00 pm – 6:00 pm Career Prep Internships Liliane
6:30 pm – 9:30 pm *CASAC Training - Long Island - Module 1 - Overview: Introduction to Addictions Pt 2 - Kevin

Tuesday March 9 9

5:00 pm – 6:00 pm Internship Supervision
6:30 pm – 9:30 pm *CASAC Training - Richmond Hill - Module 3 - Practica 6 (MI) -Liliane
6:30 pm – 9:30 pm CASAC Training - Long Island - Module 1 - Models of Addiction - Kevin

Wednesday March 10 10

6:30 pm – 9:30 pm *CASAC Training - Richmond Hill - Module 3 - Practica 7 (MI) - Liliane
6:30 pm – 9:30 pm CASAC Training - Long Island - Module 1 - Knowledge of 12 Step / Mutual Aid Groups -

Thursday March 11 11

5:00 pm – 6:00 pm Career Prep Internships Liliane
6:30 pm – 9:30 pm CASAC Training - Richmond Hill - Module 3 - Practica 8 - EXAM & GRADUATION Robert

Friday March 12 12

12:00 pm – 1:30 pm Advanced Motivational Interviewing Pt 6

Saturday March 13 13

Sunday March 14 14

Monday March 15 15

6:30 pm – 9:30 pm CASAC Training - Long Island - Module 1 - Practica 1 - Robert

Tuesday March 16 16

5:00 pm – 6:00 pm Internship Supervision
6:30 pm – 9:30 pm CASAC Training - Long Island - Module 1 - Practica 2 - Liliane
6:30 pm – 9:30 pm CASAC Training - Richmond Hill - Module 4 - Individual Counseling: Theories Pt 1 - ENTRY Robert

Wednesday March 17 17

6:30 pm – 9:30 pm CASAC Training - Long Island - Module 1 - Practica 3 - Liliane
6:30 pm – 9:30 pm CASAC Training - Richmond Hill - Module 4 - Individual Counseling: Theories Pt 2 - Robert

Thursday March 18 18

6:30 pm – 9:30 pm CASAC Training - Richmond Hill - Module 4 - Individual Counseling: Theories Pt 3 - Robert

Friday March 19 19

Saturday March 20 20

Sunday March 21 21

Monday March 22 22

6:00 pm – 9:00 pm CASAC Exam Prep - Day 1
6:30 pm – 9:30 pm CASAC Training - Long Island - Module 1 - Prevention Intervention & Treatment Modalities Pt 1 - Liliane

Tuesday March 23 23

5:00 pm – 6:00 pm Internship Supervision
6:30 pm – 9:30 pm CASAC Training - Long Island - Module 1 - Prevention Intervention & Treatment Modalities Pt 2 - Liliane
6:30 pm – 9:30 pm CASAC Training - Richmond Hill - Module 4 - Practica 1 - Robert

Wednesday March 24 24

6:30 pm – 9:30 pm CASAC Training - Long Island - Module 1 - Social, Political & Cultural Aspects of Addiction - Kevin
6:30 pm – 9:30 pm CASAC Training - Richmond Hill - Module 4 - Practica 2 - Robert

Thursday March 25 25

1:00 pm – 4:00 pm Customer Service Robert
6:30 pm – 9:30 pm *CASAC Training - Richmond Hill - Module 4 - Medicated Assisted Treatment - Kevin

Friday March 26 26

Saturday March 27 27

Sunday March 28 28

All Day Spring Break - NO CLASSES

Monday March 29 29

All Day Spring Break - NO CLASSES

Tuesday March 30 30

All Day Spring Break - NO CLASSES
5:00 pm – 6:00 pm Internship Supervision

Wednesday March 31 31

All Day Spring Break - NO CLASSES
April 2021
Monday
Tuesday
Wednesday
Thursday
Friday
Saturday
Sunday

Thursday April 1 1

All Day Spring Break - NO CLASSES

Friday April 2 2

All Day Spring Break - NO CLASSES

Saturday April 3 3

All Day Spring Break - NO CLASSES

Sunday April 4 4

Monday April 5 5

6:00 pm – 9:00 pm CASAC Exam Prep - Day 2
6:30 pm – 9:30 pm CASAC Training - Long Island - Module 1 - Diversity of Intervention & Treatment Approaches Pt 1 - Kevin

Tuesday April 6 6

1:00 pm – 4:30 pm CSF II Day 1 Liliane
5:00 pm – 6:00 pm Internship Supervision
6:30 pm – 9:30 pm *CASAC Training - Richmond Hill - Module 4 - Relapse Prevention: Individual Pt 1 - Robert
6:30 pm – 9:30 pm CASAC Training - Long Island - Module 1 - Diversity of Intervention & Treatment Approaches Pt 2 - Kevin

Wednesday April 7 7

1:00 pm – 4:30 pm CSF II Day 2 Liliane
6:30 pm – 9:30 pm *CASAC Training - Richmond Hill - Module 4 - Relapse Prevention: Individual Pt 2 - Robert
6:30 pm – 9:30 pm CASAC Training - Long Island - Module 1 - Diversity of Intervention & Treatment Approaches Pt 3 - Kevin

Thursday April 8 8

6:30 pm – 9:30 pm *CASAC Training - Richmond Hill - Module 4 - Relapse Prevention: Group - Robert

Friday April 9 9

Saturday April 10 10

Sunday April 11 11

Monday April 12 12

1:00 pm – 4:30 pm CSFII Day 3
6:30 pm – 9:30 pm CASAC Training - Long Island - Module 1 - Practica 4 - Robert

Tuesday April 13 13

1:00 pm – 4:30 pm CSFII Day 4
5:00 pm – 6:00 pm Internship Supervision
6:30 pm – 9:30 pm CASAC Training - Long Island - Module 1 - Practica 5 - Robert
6:30 pm – 9:30 pm CASAC Training - Richmond Hill - Module 4 - Vocational Rehabilitation Mary

Wednesday April 14 14

6:30 pm – 9:30 pm CASAC Training - Long Island - Module 1 - Practica 6 - EXAM & GRADUATION Liliane
6:30 pm – 9:30 pm CASAC Training - Richmond Hill - Module 4 - Practica 3 - Robert

Thursday April 15 15

6:30 pm – 9:30 pm CASAC Training - Richmond Hill - Module 4 - Practica 4 - EXAM & GRADUATION Robert

Friday April 16 16

Saturday April 17 17

Sunday April 18 18

Monday April 19 19

6:00 pm – 9:00 pm CASAC Exam Prep - Day 3
6:30 pm – 9:30 pm CASAC Training - Long Island - Module 2 - Physiological & Pharmacological Effects Pt 1 - ENTRY POINT - Kevin

Tuesday April 20 20

5:00 pm – 6:00 pm Internship Supervision
6:30 pm – 9:30 pm *CASAC Training - Richmond Hill - Module 5 - Integrated Care Pt 1- ENTRY POINT - Tim
6:30 pm – 9:30 pm CASAC Training - Long Island - Module 2 - Practica 1 - Robert

Wednesday April 21 21

1:00 pm – 4:30 pm CSFII Day 5 Liliane
6:30 pm – 9:30 pm *CASAC Training - Richmond Hill - Module 5 - Integrated Care Pt 2 - Tim
6:30 pm – 9:30 pm CASAC Training - Long Island - Module 2 - Physiological & Pharmacological Effects Pt 2 - Kevin

Thursday April 22 22

6:30 pm – 9:30 pm *CASAC Training - Richmond Hill - Module 5 - Integrated Care* Pt 3 - Robert

Friday April 23 23

Saturday April 24 24

Sunday April 25 25

Monday April 26 26

6:30 pm – 9:30 pm CASAC Training - Long Island - Module 2 - Physiological & Pharmacological Effects Pt 3 - Kevin

Tuesday April 27 27

5:00 pm – 6:00 pm Internship Supervision
6:30 pm – 9:30 pm *CASAC Training - Richmond Hill - Module 5 - Counseling Families & Significant Others Pt 1 - Robert
6:30 pm – 9:30 pm CASAC Training - Long Island - Module 2 - Physiological & Pharmacological Effects Pt 4 - Kevin

Wednesday April 28 28

6:30 pm – 9:30 pm *CASAC Training - Richmond Hill - Module 5 - Counseling Families & Significant Others Pt 2 - Robert
6:30 pm – 9:30 pm CASAC Training - Long Island - Module 2 - Physiological & Pharmacological Effects Pt 5 - Kevin

Thursday April 29 29

6:30 pm – 9:30 pm CASAC Training - Richmond Hill - Module 5 - Counseling Families & Significant Others Pt 3 - Robert

Friday April 30 30
May 2021
Monday
Tuesday
Wednesday
Thursday
Friday
Saturday
Sunday

Saturday May 1 1

Sunday May 2 2

Monday May 3 3

6:00 pm – 9:00 pm CASAC Exam Prep - Day 4
6:30 pm – 9:30 pm CASAC Training - Long Island - Module 2 - Tobacco & Nicotine Dependence - Kevin W.

Tuesday May 4 4

5:00 pm – 6:00 pm Internship Supervision
6:30 pm – 9:30 pm *CASAC Training - Richmond Hill - Module 5 - Counseling Families & Significant Others Pt 4 - Robert
6:30 pm – 9:30 pm CASAC Training - Long Island - Module 2 - Toxicology Testing & Screening - Kevin

Wednesday May 5 5

6:30 pm – 9:30 pm *CASAC Training - Richmond Hill - Module 5 - Crisis Management Pt 1 - Robert
6:30 pm – 9:30 pm CASAC Training - Long Island - Module 2 - Practica 2 Liliane

Thursday May 6 6

6:30 pm – 9:30 pm *CASAC Training - Richmond Hill - Module 5 - Crisis Management Pt 2 - Robert

Friday May 7 7

Saturday May 8 8

Sunday May 9 9

Monday May 10 10

6:30 pm – 9:30 pm CASAC Training - Long Island - Module 2 - Introduction to Diagnostic Criteria - Kevin

Tuesday May 11 11

5:00 pm – 6:00 pm Internship Supervision
6:30 pm – 9:30 pm *CASAC Training - Richmond Hill - Module 5 - Crisis Management Pt 3 - Robert
6:30 pm – 9:30 pm CASAC Training - Long Island - Module 2 - Practica 3 - Liliane

Wednesday May 12 12

6:30 pm – 9:30 pm CASAC Training - Long Island - Module 2 - Practica 4 - EXAM & GRADUATION - Liliane
6:30 pm – 9:30 pm CASAC Training - Richmond Hill - Module 5 - Practica 1 - Robert

Thursday May 13 13

6:30 pm – 9:30 pm CASAC Training - Richmond Hill - Module 5 - Practica 2 - EXAM & GRADUATION - Robert

Friday May 14 14

Saturday May 15 15

Sunday May 16 16

Monday May 17 17

6:30 pm – 9:30 pm **CASAC Training - Long Island - Module 3 - Group Counseling: Introduction Pt 1 - ENTRY POINT - Robert

Tuesday May 18 18

5:00 pm – 6:00 pm Internship Supervision
6:30 pm – 9:30 pm **CASAC Training - Long Island - Module 3 - Group Counseling: Introduction Pt 2 - Robert
6:30 pm – 9:30 pm **CASAC Training - Richmond Hill - Module 6 - Cultural Competency Pt 1 - Liliane

Wednesday May 19 19

6:30 pm – 9:30 pm **CASAC Training - Long Island - Module 3 - Group Counseling: Introduction Pt 3 - Robert
6:30 pm – 9:30 pm **CASAC Training - Richmond Hill - Module 6 - Cultural Competency Pt 2 - Liliane

Thursday May 20 20

6:30 pm – 9:30 pm CASAC Training - Richmond Hill - Module 6 - Practica 1 - Robert

Friday May 21 21

Saturday May 22 22

Sunday May 23 23

Monday May 24 24

6:30 pm – 9:30 pm **CASAC Training - Long Island - Module 3 - Group Counseling: Introduction Pt 4 - Robert

Tuesday May 25 25

5:00 pm – 6:00 pm Internship Supervision
6:30 pm – 9:30 pm CASAC Training - Long Island - Module 3 - Practica 1 - Robert
6:30 pm – 9:30 pm CASAC Training - Richmond Hill - Module 6 - Counseling Special Populations: Trauma Liliane

Wednesday May 26 26

6:30 pm – 9:30 pm *CASAC Training - Richmond Hill - Module 6 - Counseling Special Populations: Domestic Violence - Robert
6:30 pm – 9:30 pm CASAC Training - Long Island - Module 3 - Theories of Human Development Pt 1 - Liliane

Thursday May 27 27

6:30 pm – 9:30 pm *CASAC Training - Richmond Hill - Module 6 - Counseling Special Populations: LGBTQIA+ - Robert

Friday May 28 28

Saturday May 29 29

Sunday May 30 30

Monday May 31 31

6:30 pm – 9:30 pm NO CLASS - MEMORIAL DAY WEEKEND
June 2021
Monday
Tuesday
Wednesday
Thursday
Friday
Saturday
Sunday

Tuesday June 1 1

5:00 pm – 6:00 pm Internship Supervision
6:30 pm – 9:30 pm *CASAC Training - Richmond Hill - Module 6 - Counseling Special Populations: Women - Liliane
6:30 pm – 9:30 pm CASAC Training - Long Island - Module 3 - Theories of Human Development Pt 2 - Robert

Wednesday June 2 2

6:30 pm – 9:30 pm CASAC Training - Long Island - Module 3 - Practica 2 Robert
6:30 pm – 9:30 pm CASAC Training - Richmond Hill - Module 6 - Practica 2 - Liliane

Thursday June 3 3

6:30 pm – 9:30 pm CASAC Training - Richmond Hill - Module 6 - Practica 3 - EXAM & GRADUATION Robert

Friday June 4 4

Saturday June 5 5

Sunday June 6 6

Monday June 7 7

1:00 pm – 4:30 pm Clinical Supervision Foundations II - Day 1
6:30 pm – 9:30 pm CASAC Training - Long Island - Module 3 - Practica 3 - Robert

Tuesday June 8 8

5:00 pm – 6:00 pm Internship Supervision
6:30 pm – 9:30 pm **CASAC Training - Long Island - Module 3 - Groups in SUD Treatment Pt 1 - Robert
6:30 pm – 9:30 pm *CASAC Training - Richmond Hill - Module 7 - Screening & Lethality - Liliane

Wednesday June 9 9

1:00 pm – 4:30 pm Clinical Supervision Foundations II - Day 2
6:30 pm – 9:30 pm *CASAC Training - Long Island - Module 3 - Groups in Addiction Pt 2 - Robert
6:30 pm – 9:30 pm *CASAC Training - Richmond Hill - Module 7 - Identifying Mental Health Disorders Pt 1 - Kevin

Thursday June 10 10

6:30 pm – 9:30 pm *CASAC Training - Richmond Hill - Module 7 - Identifying Mental Health Disorders Pt 2 - Kevin

Friday June 11 11

Saturday June 12 12

Sunday June 13 13

Monday June 14 14

1:00 pm – 4:30 pm Clinical Supervision Foundations II - Day 3
1:00 pm CSF II Day 3 & 4 Liliane
6:30 pm – 9:30 pm CASAC Training - Long Island - Module 3 - Practica 4 - Robert

Tuesday June 15 15

1:00 pm – 4:30 pm Clinical Supervision Foundations II - Day 4
CSF II Day 3 & 4 Liliane ⤺ Ends 4:30 pm
5:00 pm – 6:00 pm Internship Supervision
6:30 pm – 9:30 pm *CASAC Training - Richmond Hill - Module 7 - Identifying Mental Health Disorders Pt 3 - Kevin
6:30 pm – 9:30 pm CASAC Training - Long Island - Module 3 - Foundational Skills: Individual & Group Counseling Pt 1 - Robert

Wednesday June 16 16

6:30 pm – 9:30 pm CASAC Training - Long Island - Module 3 - Foundational Skills: Individual & Group Counseling Pt 2 - Robert
6:30 pm – 9:30 pm CASAC Training - Richmond Hill - Module 7 - The ASI Pt 1 - Liliane

Thursday June 17 17

6:30 pm – 9:30 pm CASAC Training - Richmond Hill - Module 7 - The ASI Pt 2 - Liliane

Friday June 18 18

10:30 am – 2:00 pm CSFII Day 5 Liliane

Saturday June 19 19

Sunday June 20 20

Monday June 21 21

6:00 pm – 9:00 pm CASAC Exam Prep - Day 1
6:30 pm – 9:30 pm *CASAC Training - Long Island - Module 3 - Foundational Skills: Individual & Group Counseling (MI) Pt 3 - Liliane

Tuesday June 22 22

5:00 pm – 6:00 pm Internship Supervision
6:30 pm – 9:30 pm *CASAC Training - Long Island - Module 3 - Foundational Skills: Individual & Group Counseling (MI) Pt 4 - Liliane
6:30 pm – 9:30 pm NO CLASS RICHMOND HILL

Wednesday June 23 23

6:30 pm – 9:30 pm CASAC Training - Long Island - Module 3 - Practica 5 - Robert PREVIEW
6:30 pm – 9:30 pm CASAC Training - Richmond Hill - Module 7 - The ASI Pt 3 - Liliane

Thursday June 24 24

6:30 pm – 9:30 pm CASAC Training - Richmond Hill - Module 7 - The ASI Pt 4 - Liliane

Friday June 25 25

Saturday June 26 26

Sunday June 27 27

Monday June 28 28

6:30 pm – 9:30 pm *CASAC Training - Long Island - Module 3 - Practica 6 (MI) - Liliane

Tuesday June 29 29

5:00 pm – 6:00 pm Internship Supervision
6:30 pm – 9:30 pm **CASAC Training - Richmond Hill - Module 7 - Treatment Planning & Clinical Documentation Pt 1 - Robert
6:30 pm – 9:30 pm *CASAC Training - Long Island - Module 3 - Practica 7 (MI)- Liliane

Wednesday June 30 30

6:30 pm – 9:30 pm *CASAC Training - Richmond Hill - Module 7 - Treatment Planning & Clinical Documentation Pt 2 - Robert
6:30 pm – 9:30 pm CASAC Training - Long Island - Module 3 - Practica 8 - EXAM & GRADUATION - Liliane
July 2021
Monday
Tuesday
Wednesday
Thursday
Friday
Saturday
Sunday

Thursday July 1 1

6:30 pm – 9:30 pm *CASAC Training - Richmond Hill - Module 7 - Treatment Planning & Clinical Documentation Pt 3 - Robert

Friday July 2 2

Saturday July 3 3

Sunday July 4 4

Monday July 5 5

6:00 pm – 9:00 pm CASAC Exam Prep - Day 2
6:30 pm – 9:30 pm CASAC Training - Long Island - Module 4 - Individual Counseling: Theories Pt 1 Liliane - ENTRY POINT -

Tuesday July 6 6

5:00 pm – 6:00 pm Internship Supervision
6:30 pm – 9:30 pm *CASAC Training - Richmond Hill - Module 7 - Treatment Planning & Clinical Documentation Pt 4 - Robert
6:30 pm – 9:30 pm CASAC Training - Long Island - Module 4 - Individual Counseling: Theories Pt 2 - Liliane

Wednesday July 7 7

6:30 pm – 9:30 pm CASAC Training - Long Island - Module 4 - Individual Counseling: Theories Pt 3 - Liliane
6:30 pm – 9:30 pm CASAC Training - Richmond Hill - Module 7 - Practica 1 - Robert

Thursday July 8 8

6:30 pm – 9:30 pm CASAC Training - Richmond Hill - Module 7 - Practica 2 - Robert

Friday July 9 9

Saturday July 10 10

Sunday July 11 11

Monday July 12 12

6:30 pm – 9:30 pm CASAC Training - Long Island - Module 4 - Practica 1 - Robert

Tuesday July 13 13

5:00 pm – 6:00 pm Internship Supervision
6:30 pm – 9:30 pm CASAC Training - Long Island - Module 4 - Practica 2 - Liliane
6:30 pm – 9:30 pm CASAC Training - Richmond Hill - Module 7 - Practica 3 - Robert

Wednesday July 14 14

6:30 pm – 9:30 pm *CASAC Training - Long Island - Module 4 - Medicated Assisted Treatment - Kevin
6:30 pm – 9:30 pm CASAC Training - Richmond Hill - Module 7 - Practica 4 - EXAM & GRADUATION - Robert

Thursday July 15 15

6:30 pm – 9:30 pm CASAC Training - Richmond Hill - Module 8 - Case Management, Referral & Service - Robert

Friday July 16 16

Saturday July 17 17

Sunday July 18 18

Monday July 19 19

6:00 pm – 9:00 pm CASAC Exam Prep - Day 3
6:30 pm – 9:30 pm *CASAC Training - Long Island - Module 4 - Relapse Prevention: Individual Pt 1 - Kevin

Tuesday July 20 20

5:00 pm – 6:00 pm Internship Supervision
6:30 pm – 9:30 pm *CASAC Training - Long Island - Module 4 - Relapse Prevention: Individual Pt 2 - Kevin
6:30 pm – 9:30 pm CASAC Training - Richmond Hill - Module 8 - Practica 1 - Robert

Wednesday July 21 21

6:30 pm – 9:30 pm *CASAC Training - Long Island - Module 4 - Relapse Prevention: Group - Liliane
6:30 pm – 9:30 pm CASAC Training - Richmond Hill - Module 8 - Practica 2 - Robert

Thursday July 22 22

6:30 pm – 9:30 pm CASAC Training - Richmond Hill - Module 8 - Practica 3 - Robert

Friday July 23 23

Saturday July 24 24

Sunday July 25 25

Monday July 26 26

6:30 pm – 9:30 pm CASAC Training - Long Island - Module 4 - Vocational Rehabilitation - Mary

Tuesday July 27 27

5:00 pm – 6:00 pm Internship Supervision
6:30 pm – 9:30 pm CASAC Training - Long Island - Module 4 - Practica 3 - Liliane
6:30 pm – 9:30 pm CASAC Training - Richmond Hill - Module 8 - Patient, Family & Community Education - Robert

Wednesday July 28 28

6:30 pm – 9:30 pm CASAC Training - Long Island - Module 4 - Practica 4 - Liliane EXAM & GRADUATION - SUMMER BREAK BEGINS!!!!
6:30 pm – 9:30 pm CASAC Training - Richmond Hill - Module 8 - Practica 4 - Robert

Thursday July 29 29

9:00 am SUMMER BREAK - NO CASAC TRAINING CLASSES - LONG ISLAND & RICHMOND HILL
6:30 pm – 9:30 pm CASAC Training - Richmond Hill - Module 8 - Practica 5 Robert- EXAM & GRADUATION - SUMMER BREAK BEGINS!!!!

Friday July 30 30

All Day SUMMER BREAK - NO CASAC TRAINING CLASSES - LONG ISLAND & RICHMOND HILL

Saturday July 31 31

All Day SUMMER BREAK - NO CASAC TRAINING CLASSES - LONG ISLAND & RICHMOND HILL
August 2021
Monday
Tuesday
Wednesday
Thursday
Friday
Saturday
Sunday

Sunday August 1 1

All Day SUMMER BREAK - NO CASAC TRAINING CLASSES - LONG ISLAND & RICHMOND HILL

Monday August 2 2

All Day SUMMER BREAK - NO CASAC TRAINING CLASSES - LONG ISLAND & RICHMOND HILL
6:00 pm – 9:00 pm CASAC Exam Prep - Day 4

Tuesday August 3 3

All Day SUMMER BREAK - NO CASAC TRAINING CLASSES - LONG ISLAND & RICHMOND HILL
5:00 pm – 6:00 pm Internship Supervision

Wednesday August 4 4

All Day SUMMER BREAK - NO CASAC TRAINING CLASSES - LONG ISLAND & RICHMOND HILL

Thursday August 5 5

All Day SUMMER BREAK - NO CASAC TRAINING CLASSES - LONG ISLAND & RICHMOND HILL

Friday August 6 6

All Day SUMMER BREAK - NO CASAC TRAINING CLASSES - LONG ISLAND & RICHMOND HILL

Saturday August 7 7

All Day SUMMER BREAK - NO CASAC TRAINING CLASSES - LONG ISLAND & RICHMOND HILL

Sunday August 8 8

All Day SUMMER BREAK - NO CASAC TRAINING CLASSES - LONG ISLAND & RICHMOND HILL

Monday August 9 9

All Day SUMMER BREAK - NO CASAC TRAINING CLASSES - LONG ISLAND & RICHMOND HILL

Tuesday August 10 10

All Day SUMMER BREAK - NO CASAC TRAINING CLASSES - LONG ISLAND & RICHMOND HILL
5:00 pm – 6:00 pm Internship Supervision

Wednesday August 11 11

All Day SUMMER BREAK - NO CASAC TRAINING CLASSES - LONG ISLAND & RICHMOND HILL

Thursday August 12 12

All Day SUMMER BREAK - NO CASAC TRAINING CLASSES - LONG ISLAND & RICHMOND HILL

Friday August 13 13

All Day SUMMER BREAK - NO CASAC TRAINING CLASSES - LONG ISLAND & RICHMOND HILL

Saturday August 14 14

All Day SUMMER BREAK - NO CASAC TRAINING CLASSES - LONG ISLAND & RICHMOND HILL

Sunday August 15 15

All Day SUMMER BREAK - NO CASAC TRAINING CLASSES - LONG ISLAND & RICHMOND HILL

Monday August 16 16

All Day SUMMER BREAK - NO CASAC TRAINING CLASSES - LONG ISLAND & RICHMOND HILL

Tuesday August 17 17

All Day SUMMER BREAK - NO CASAC TRAINING CLASSES - LONG ISLAND & RICHMOND HILL
5:00 pm – 6:00 pm Internship Supervision

Wednesday August 18 18

All Day SUMMER BREAK - NO CASAC TRAINING CLASSES - LONG ISLAND & RICHMOND HILL

Thursday August 19 19

All Day SUMMER BREAK - NO CASAC TRAINING CLASSES - LONG ISLAND & RICHMOND HILL

Friday August 20 20

All Day SUMMER BREAK - NO CASAC TRAINING CLASSES - LONG ISLAND & RICHMOND HILL

Saturday August 21 21

All Day SUMMER BREAK - NO CASAC TRAINING CLASSES - LONG ISLAND & RICHMOND HILL

Sunday August 22 22

All Day SUMMER BREAK - NO CASAC TRAINING CLASSES - LONG ISLAND & RICHMOND HILL

Monday August 23 23

All Day SUMMER BREAK - NO CASAC TRAINING CLASSES - LONG ISLAND & RICHMOND HILL

Tuesday August 24 24

All Day SUMMER BREAK - NO CASAC TRAINING CLASSES - LONG ISLAND & RICHMOND HILL
5:00 pm – 6:00 pm Internship Supervision

Wednesday August 25 25

All Day SUMMER BREAK - NO CASAC TRAINING CLASSES - LONG ISLAND & RICHMOND HILL

Thursday August 26 26

All Day SUMMER BREAK - NO CASAC TRAINING CLASSES - LONG ISLAND & RICHMOND HILL

Friday August 27 27

All Day SUMMER BREAK - NO CASAC TRAINING CLASSES - LONG ISLAND & RICHMOND HILL

Saturday August 28 28

All Day SUMMER BREAK - NO CASAC TRAINING CLASSES - LONG ISLAND & RICHMOND HILL

Sunday August 29 29

All Day SUMMER BREAK - NO CASAC TRAINING CLASSES - LONG ISLAND & RICHMOND HILL

Monday August 30 30

All Day SUMMER BREAK - NO CASAC TRAINING CLASSES - LONG ISLAND & RICHMOND HILL

Tuesday August 31 31

All Day SUMMER BREAK - NO CASAC TRAINING CLASSES - LONG ISLAND & RICHMOND HILL
September 2021
Monday
Tuesday
Wednesday
Thursday
Friday
Saturday
Sunday

Wednesday September 1 1

All Day SUMMER BREAK - NO CASAC TRAINING CLASSES - LONG ISLAND & RICHMOND HILL

Thursday September 2 2

All Day SUMMER BREAK - NO CASAC TRAINING CLASSES - LONG ISLAND & RICHMOND HILL

Friday September 3 3

All Day SUMMER BREAK - NO CASAC TRAINING CLASSES - LONG ISLAND & RICHMOND HILL

Saturday September 4 4

All Day SUMMER BREAK - NO CASAC TRAINING CLASSES - LONG ISLAND & RICHMOND HILL

Sunday September 5 5

All Day SUMMER BREAK - NO CASAC TRAINING CLASSES - LONG ISLAND & RICHMOND HILL

Monday September 6 6

All Day SUMMER BREAK - NO CASAC TRAINING CLASSES - LONG ISLAND & RICHMOND HILL

Tuesday September 7 7

SUMMER BREAK - NO CASAC TRAINING CLASSES - LONG ISLAND & RICHMOND HILL ⤺ Ends 11:30 pm

Wednesday September 8 8

Thursday September 9 9

Friday September 10 10

Saturday September 11 11

Sunday September 12 12

Monday September 13 13

Tuesday September 14 14

Wednesday September 15 15

Thursday September 16 16

Friday September 17 17

Saturday September 18 18

Sunday September 19 19

Monday September 20 20

Tuesday September 21 21

Wednesday September 22 22

Thursday September 23 23

Friday September 24 24

Saturday September 25 25

Sunday September 26 26

Monday September 27 27

Tuesday September 28 28

Wednesday September 29 29

Thursday September 30 30
CASAC Training Course Descriptions
---